Once you have your classroom set-up and spent the first few days with your students laying a strong foundation, it's time to set up the strategies for the framework of the house that is your classroom and Keep Rocking Your Classroom Management All Year.
And, if you have ever exercised, dieted or learned something new, you know that keepin' on keepin' on is the hardest part…I hate that. We have to continually remind ourselves that this is a journey, not a sprint, that persistence pays off and that after a while it will become habit yadda yadda yadda. And, those things are easy to say when looking forward or back, but when you're in the thick of it, trying to convince yourself along with 200 18-year olds of this AND having to repeat yourself 6 freaking times a day (or however many sections you teach) it is a challenge for sure and there are some days it would be easier to quit than to keep on going! BUT I promise you, keep on going and it will be worth it!
Teenagers question everything. EVERYTHING. Why do I have to do this? What am I going to get out of this? Teenagers are self-centered it's true. BUT, you know what I've learned over the years in working with these pre-adults? If we all questioned what we were doing and why we were doing something, we might not waste as much time as we do. Anyway…
So today let's talk about that setting up that framework and momentum thing…
Continue Strong…Stay Strong with Those High Expectations
Students need to see value in attending class daily so make it that way.
I had to convince students to come to class each day and the way I found that to work is to make the lesson so valuable that it's not worth it to miss. First, I got rid of busy work that isn't crucial to their overall understanding of what they are learning. Each assignment builds on the next and leads up to their project.
I usually lecture at the beginning of class for a few minutes, model what they need to do, then have them show me they know how to do it. I let them brainstorm and come up with the best possible solution. If they are absent, they have a lot of figuring out on their own and the assignments take a long time. I'm telling you, this works. I have student-athletes who will ask to sit in on another class if they have to miss my class. I have students who just show up for my class even if they stay home the rest of the day. What I often hear is students tell others it isn't worth it to miss this class.
Students need to know that you stick to what you say
This is a big one. Do NOT say anything that you aren't willing to follow through on. If you don't follow through, they won't take you seriously and will continue to push.
For example, my students are seniors heading to college and I am preparing them to be ready to go and be successful in college and jobs. Essays are to be turned in by the bell. Anything after the bell and they are late. Even if they are walking to turn it in when the bell rings. Always, always, the first essay, at least ½ didn't really believe me when I said that – they are walking around, casually getting them out, stapling them, etc.. And then they are shocked when, at the bell, I collect the ones turned in and theirs is docked. But, I stick to it, they are late and you know what? The second essay, they are all on it and get it in on time.
That's how I run my classroom, and for me and my students, it works.
If you stick to what you say, it usually only takes one lesson for them to get that you mean what you say.
Teenagers rely on boundaries. It's natural for teens to push until they know the limit and then they will stop…well, most of them lol – there are always those few that have to try it a couple times before they get it. If you have chaos in your class, chances are it is because you haven't established your boundaries or stuck to them.
Challenge a student who says they don't know.
If, when I am teaching something and a student says, I don't know – I assume they really don't, so then I ask where the point of confusion is and ask another student to explain it to him/her (I further clarify when/if needed). THEN, I ask the student who didn't know to explain it to me so that I know that they understand.
On the first day of school, I explain that I do want to know if they don't get something I've taught because if they really don't know then chances are that their peers don't either so someone needs to speak up. HOWEVER, if it's an I don't know because they aren't paying attention, they are a little embarrassed to waste their peers time and have to walk through the process so generally speaking, after that happens once, they pay attention when I'm up in front teaching.
Students Need to Re-do Assignments until they are correct (they get tired of that real quick!)
Yes, you heard that. As I mentioned earlier, I need to know that a student has learned before I move on and if their work is sloppy, half done or incorrect, I will not accept it. I hand it back and tell them it's late and to work on it more. Yes, it's work. Yes, it's a challenge to keep track of. BUT, it usually only takes doing this the first assignment to know that I mean business and they quickly realize they would rather just do it right the first time than have me nag. Doing this allows me to better identify areas they really need help on…and needless to say, this is one reason for calling me, mama (nag, nag, nag, lol).
Students who perform at a higher level need to have opportunities to teach others.
To earn an A on an assignment in my class means that student is an expert, as in they have to also be able to teach others. So, the students who earned A's on assignments are grouped up with students who didn't and they have the opportunity to teach the students what they know. They have to look at the students work, identify the errors, then teach the student.
THEN, I meet with them and the student who didn't earn an A has the opportunity to show/tell me what they need to do to fix it (and then fix it). THEN, the teaching student solidifies his/her A.
This is also great for those really smart students who need a challenge. At the end of the year meetings, they all say how much teaching others helped them further understand the assignment. AND, since realistically, I cannot meet with each student for each assignment, there are several little me's running around the room. This is a win-win for all and is so cool to watch!
Just Keepin' it Real – The Not So Politically Correct Way
This is where I'm going to catch some flack but I really don't care.
I've raised my own children and have taught thousands of teenagers over the years and they do not thrive in parts of this world we have created for them. My students call it Keepin' it Real with Momma Blevs time.
Call out students who misbehave & have face to face discussions when needed.
I keep it real from day one. I know they tell us to direct the entire class when a student is misbehaving but I have to be honest…this DOES NOT work! It doesn't work because the student you are trying to reach isn't listening! HELLO?!?! And, I am not alone in thinking this way I know. Remember, I teach 18-year-olds heading off to college or the workforce. They need to know how to act. I have a lot to cover in a little amount of time and I don't have the time (or want to waste my students time) redirecting an entire class.
Here's what I do and 9/10 times it works. I stop what I'm teaching and look directly at the student without saying anything. Usually, the student will stop right away as soon as we make eye contact (I've been told my eyes speak 1000 words lol). Then, if needed, I will ask the student to stay after class to discuss it. This process takes about 5-10 seconds and we can quickly move on. Students don't like to be called out so this isn't a big issue in my room.
Students thrive in competition.
I'm sorry, everyone is NOT a winner. You have to earn it. If you want to achieve more, you have to work harder than the person next to you. Competition is what makes our lives better; it's why we have cool stuff…imagine Apple not competing with Microsoft?!? Where would we be without competition? You might be surprised how serious students get on assignments when I say – this is a competition. Their first question is – what do we get? (Don't get me started on that one). I say you get the glory of winning. They pause for a second, and then go, okay let's go!
Some students are better than others at certain things and some students aren't good at certain things and that's great! 
We all have things we are naturally good at and things that don't come easily to us. We have to quit telling teenagers they are perfect at everything. Instead, help them find what they are naturally good at and build on that. Then, they are okay with the things they aren't great at because they totally rock at something else. This is what sets us apart from others. It's what makes us unique. It's what makes us successful and in turn, makes our world a better place. I do several activities to help my students learn what they are especially good at and then assign them roles based on their findings. (You can read how to help figure that out here).
Out Like a Momma Lion
In the last post, we talked about In Like a Lion. Now you get to turn into Momma Lion.
Care like a parent, not like a friend
My students call me Mama Blevs. They started this because they said that I'm hard on them and that I nag until they get their work done like their mother. It's one of the best compliments that I have ever received as a teacher. Students don't need you as a friend, they need you as their leader and their mentor. Students will work hard for someone they respect and care for.
I'm also their momma lion. I will not allow anyone to be disrespectful in my room. I will protect my students and my class and they know it. We recently discussed our escape plan if needed and a student said, we aren't worried in your class because we know you got us Momma Blevs…how cool is that? I'm hard on these kids. My expectations are high and demand a lot from my students. I am honest and keep things real. I care like a parent and they know that beyond a shadow of a doubt, I will have their backs.
Get to know your students
This is a big one! Take the time to get to know your students. I average 150-200 students a year and I know it isn't an easy task, but it is so important to learn because it shows that you care.
Pay attention to what they are wearing (clothes, backpacks, lanyards, etc). This will give you a good start…you'll be able to tell what sports fans they are, their favorite places to visit (Disney, Hawaii, etc), their favorite colors, what they are active in on campus and their style. Listen to the conversations that students are having while walking in class. Compliment them on something you notice. Look at bulletin updates for your student's names and then talk to them about what you read.
Something really simple like, hey how bout them Niners when the 49ers lose lol is a way to say, I noticed you like this team (even if you are giving them a bad time) makes a huge difference. Try it – you will be surprised at how much better students act and how much harder they will try when you get to know them.
Reaping the Rewards
If you start your year out with well-defined guidelines and high expectations, students know when they enter your class that they should act like young adults and that they need to be ready to go. When they learn in detail what those expectations look like and entail (they do freak out a little), it's also at that point in the year when you have established that parent/teacher relationship and that you know they can do it – so most of them want to rise to the occasion and they will work hard for themselves and you.
At the end of the year, I get several notes from students thanking me for preparing them for college, work, and life. They thank me for pushing them harder than they've ever been pushed, for our keepin' it real momma Blevs talks and for investing in their lives.
When they THANK you for both caring and pushing them to their limits, you are doing something right.
PIN FOR LATER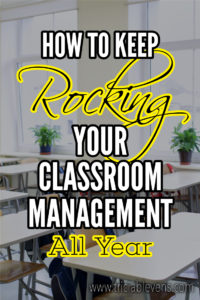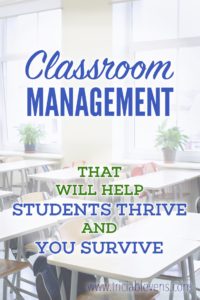 If you want to read about setting up your classroom for success and having great classroom management from day 1, you can read that post by clicking below:
If you want to help your students learn what they are naturally good at or drawn to, OR, if you want to learn these things about yourself, check out my posts by clicking on the post name below: